Just a few days before PWR Live: Shake, Rassle and Roll, a heated argument between the Mr. Sy Group (MSG) and The Naughty Boys turned heads on social media.
If you weren't tuned in on this feud, then let us take you through the biggest burns between MSG and The Naughty Boys
Their arguments are too hot to handle so we decided to rate their spiciness according to the internet-famous Filipino siling labuyo. 🌶
GrabCamus' Mic Drop moment – 🌶🌶🌶
After Mr. Sy dropped the brotherhood between him and GrabCamus, Camus decides to clap back and the internet was shookt.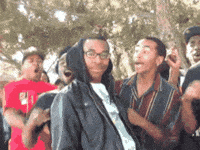 SANDATA breaks his silence – 🌶🌶🌶.5
Read his whole response here:
BAH GAWD TRIAN DELA TORRE IS THROWING MUD – 🌶🌶🌶🌶.5
Trian dela Torre decides to throw the "Mukha ka lang tanga" comment back to Sandata with an insult to how the Huling Mandirigma wears his masks.
Main Maxx with a sili? move – 🌶
Come on, Maxx we want more!!!
Kap, too wants more -🌶🌶🌶.9
TDT dragging Mr. Sy's weave -🌶🌶🌶🌶.5
The ½ of the Tag Team champs isn't done using the Power of Friendship against MSG, smearing Mr. Sy's credibility as MSG's manager and as a PWR talent.
What can you say boys and girls, who had the biggest insult from both camps?
Will the online mudslinging finally stop this Sunday? Or will this be a long-term feud between this two factions?
An MSG interference during the Tag Team championship match perhaps? Only one way to find out, see you on October 21 at the 500 Shaw Zentrum Events Pavillon for PWR Live: Shake, Rassle and Roll!